Sometimes the contrast of the image heavily drops, when we use coax types of telecentric lenses:
Let's take a look at the situation, when we use the coax type of telecentric lenses.
Image with deactivated coax illumination (and auto exposure):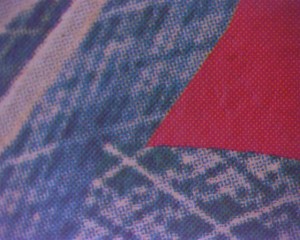 Image with activated coax illumination
Question: What's wrong with the lens or illumination?
Answer: The lens and illumination are just fine, but the object has been chosen wrongly.
The most likely reason for this symptom of dropping contrast is neither the lens nor the illumination, but the object (!).
Let's have a look at the so-called "beam splitter cube" used in most coax type telecentric lenses:
The (idealized) principle is like this:
From a light source (1) light enters a glass cube whose diagonal (3) is semi-transparent. 50% of the light passes through).
The other 50% is reflected by the object and enters the glass cube again
The idea is brilliant.There's just one problem : this 100% in – 25% out principle doesn't work!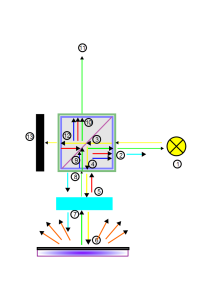 So what's the reason for the bad image contrast?
For shiny objects (mirrors, the mechanics of watches, metal pins of connectors .. ) the useful information of the image is overlaid with about 4.4% stray
light
from internal reflections in the beam splitter cube. This results in a good
contrast
and an nicely illuminated image.
For diffuse reflecting objects (paper, fabrics, wood, .. most things around us) the useful image information is overlaid with roughly 20(!) times the amount of stray
light
.
Of course the stray
light
doesn't increase .. ; the "useful information" is just reduced.
This results in an image with
contrast
.
To show this in detail, let's follow the light through the beam splitter cube:We assume here an AR coating of the cube and lenses of 99% and 10% absorption by the mirror.
Let's follow the light towards the light trap first:
Now let's trace the other part of the beam
We left the beamsplitter towards the object, so is that it? Unfortionately not!
Finally the light reaches the object. So is everything good now ? Not at all !
But that's still aceptable!. Remember, in the above photos, the object wasn't a mirror but diffuse reflecting paper. What happens in this case? .. Prepare yourselves!
NEVER use a coax type of
telecentric
lens
for inspection of a diffuse-reflecting object. The internal reflections in the beamsplitter cube are much higher than the image information from the object. The
contrast
will drastically suffer.